I am going to Spark!
I can't believe it! I have been wanting to go since last year, when -it seemed as if- the whole creative community was blogging about Spark 2. It looked so fun and beautiful and inspiring.
However, I have 2 young kids AND I have never left them (except for one weekend when Jasmine was 10 months old and Alex was not yet in our lives). That and it seemed a little self- indulgent to be travelling all the way to Utah for a creative weekend just for fun, just for me. So I put it away on my long wish list of things to do one day.
But then ... I asked and I received. Hubby is graciously taking a couple of days off to take care of the munchkins and letting me have uninterrupted fun all the way in Utah. *eeek* I'm so excited! Thank you hubby!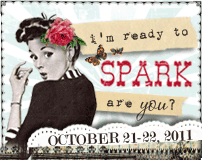 Of course, I haven't told the kids yet ... now, how to do this?